Sierra Vista Jr. High School Shares Nationally Recognized Physical Education Program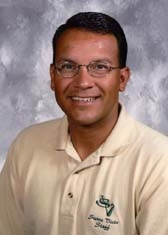 Rolling Meadows, IL, April 08, 2011 –(PR.com)– Sierra Vista has become a model school for a new approach to physical education that engages every student. The school's leadership and staff have long-recognized the multiple benefits of a strong fitness-based physical education program. The most apparent outcome is the link between fitness and overall academic achievement. Research also shows that exercise improves our capacity to learn, and there is strong evidence that a fitness-based physical education program improves behavior.
From 8am-2pm on April 11th George Velarde, director of physical education at Sierra Vista Jr. High School in Canyon Country, California, will be hosting a workshop for area school educators, administrators and PEP Grant winners on what is considered by many to be the prototype physical education program of the 21st century.
Attendees will be learning how to replicate this exemplary P.E. program. George will be sharing not only his vision but how he moved step-by-step to achieve the school's goals. A thorough explanation will be given on how Sierra Vista School engaged in yearly fund-raising and garnered the support of their community.
Visitors will also get a close-up view of the variety of activities that the Sierra Vista physical education program offers its students. During the day students will be participating in games, fitness exercises, and a state-of-the-art Exergaming® lab that will give participants an opportunity to observe the thought and planning that has gone into developing this top-notch program. Some of the products that will be featured at the event will include Neuro-Active BrainBike®, Gamercize®, Xavix®, the iDance2 Dance and Step System®, HOPSports, Polar's Live Heart Rate System (Cardio GX system) and Concept 2 virtual rowing machines.
For more information, please contact George Velarde (661-252-3113) or email him to set up a PE Demonstration at gvelarde@hartdistrict.org
To learn more about Exergaming, please contact Parker Johnson at 877-668-4664 or info@exergamefitness.com